Everything you need to know about DORA!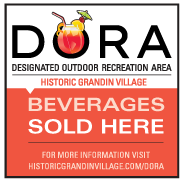 A DORA ABC license has been granted to Grandin Village authorizing us to turn designated outdoor areas into open container zones during an event lasting from 1-3 days. The type of DORA license we have allows us to have events with DORA 16 times over the course of 12 months. Grandin Village will post appropriate signage clearly demarcating the boundaries of the DORA.
Signs will also be visible before entering retail establishments and restaurants/bars showing whether they are participating. There will be a trashcan at both ends of the designated area for participants to dispose of their cups. Only alcoholic beverages purchased from a permanent restaurant/bar located within the designated area may be consumed in the DORA, and they must be contained in paper, plastic, or similar disposable containers that clearly display the name or logo of the bar/restaurant.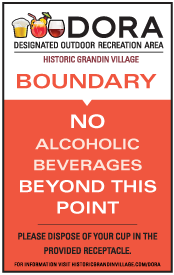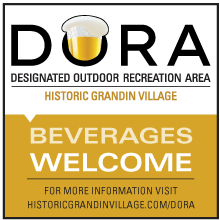 Purchasers may leave the bar/restaurant with their drink in the labeled cup and sip and shop in the designated area with their drink. They may also enter retail shops with a visible participation sign. DORA cups are one time use and must be thrown away prior to entering ANY permitted establishment (business that holds a liquor license) OR any business with a non participating DORA decal.
Purchasers are NOT allowed to enter another bar/restaurant with their cup. They must dispose of the cup in a trash receptacle. They may then purchase another cup from the bar/restaurant they are now entering, and take it outside. There will be a trashcan at both boundaries of the designated area for participants to dispose of their cups.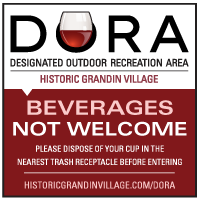 Please sip, shop & stroll the streets, drink responsibly & dispose of your cup in a proper receptacle. Help us keep Grandin Village Clean!