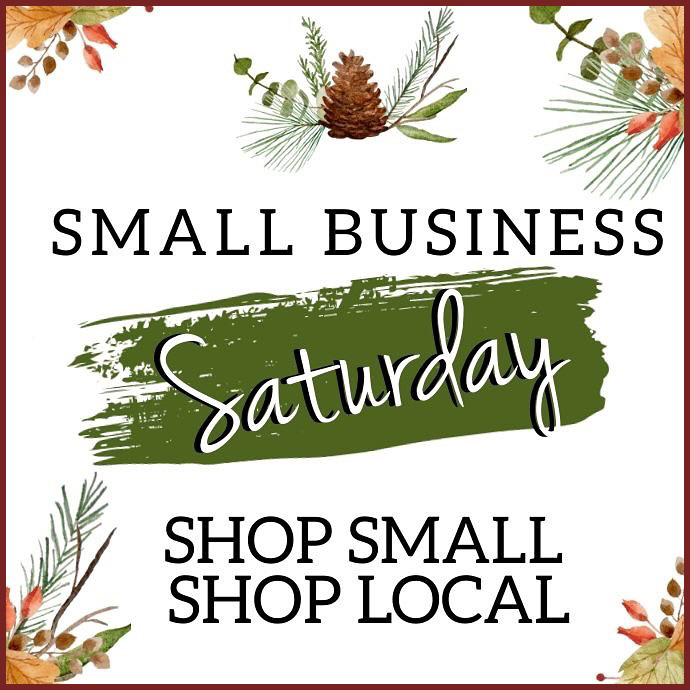 NOV 25 | 10 AM-5 PM
Shop small, and shop local in Grandin Village this Saturday for Small Business Saturday! So many small businesses need your support, and we have so many great ones in Roanoke, as well as in Grandin Village! Keep Grandin shops in mind during the whole holiday season, and don't forget to stop in at a restaurant for a libation or a bite to eat.
THE VILLAGE GRILL | FOOD TRUCK MONDAYS |  5 - 9 PM
Our outdoor bar is open, but our interior restaurant remains closed on Mondays. Check
The Village Grill Facebook
 each Monday for specific food trucks!
---
GRANDIN VILLAGE BUSINESS ASSOCIATION MEETING
General Meeting & Community Info Sharing | Time: Noon | Location: Rockfish Food & Wine
FARMBURGUESA | FarmburGIVES
Farmburguesa gives 10% of proceeds back to nonprofits in the area
THE VILLAGE GRILL | TACO TUESDAYS
ROCKFISH FOOD & WINE | WINE WEDNESDAY
20% Off All In-House Bottles
THE VILLAGE GRILL | $8 SALADS ALL DAY!
ROCKFISH FOOD & WINE | "ALMOST" FRIDAY 
Special on Olivia's Bottle pick of the Week
THE VILLAGE GRILL | BURGERS ½ PRICE ALL DAY!
---
ROCKFISH FOOD & WINE | TAPAS & TASTING | 5:30 - 7 PM
Vegan Food Truck behind The Maridor at 1857 Grandin Road, Roanoke, 24015
THE GRANDIN THEATRE | MOVIE OPENINGS
GRANDIN VILLAGE FARMERS MARKET | 8 AM - NOON
Behind the Roanoke Co+op. Offering local fruits and vegetables, locally roasted coffee and artisanal bread products, and hand-made pottery.
SPECIAL SATURDAYS at Grandin Village Farmers Market
National Farmers Market Week 08/12/23 | Love Your Honey 09/16/23 | Harvest Fest 10/28/23 | Shop Local at the Market 11/18/23 | Holiday Hot Chocolate Market 12/16/23
Follow our Facebook and Instagram accounts in the week before event day for details. Expect live music, seasonal cocktails for sale, fun contests, and hands-on activities,in addition to our regular market magic. Questions? Email: markets@leapforlocalfood.org
THE GRANDIN THEATRE | FREE MATINEE | 10 AM
THE DOG BOWL MARKET | 11 AM - 4PM
Guest vendors | Over 100 local artisans and vendors inside

 | 
All items for sale are either handmade locally or vintage. 
NOVEMBER SPECIAL EVENTS 2023
Join Black Dog for their annual Holiday Open House as they celebrate the season with door prizes, tours, music, and refreshments! 
Refreshments from:


9AM | Two Roosters Coffee & Cocoa
9AM-5PM |  KEFI Greek Food Truck including breakfast!
10AM-3PM | Custom Fabrication Shop Tours
11AM | Fruits & Roots Juice | Petals & Sugar | Big Lick Brewing Company | Virginia Mountain Vineyards | Music from Quest Entertainment
11AM-1PM | Meet dogs available for adoption from the Roanoke Valley SPCA
12PM-Sold Out |  Hot Knots Bavarian Style Pretzels 
12PM-4PM | Meet Ambassador Animals from Southwest Virginia Wildlife
Meet our Marketplace Vendors + Artists!
ROCKFISH FOOD & WINE GRILL | LIVE: TERRY BROWN ASCENSION PROJECT | 6:30 - 9:30 PM

General Admission - $5 + tax  |  VIP - $10 + tax
THE GRANDIN THEATRE | 
NOTHING'S FOR FREE | 6 PM - DOORS OPEN | 7 PM - SHOWTIME | GEN ADM - $20+ TX
Nothing's For Free is the real story of the birth and legacy of freeride mountain biking. Chronicling the blue-collar story and rise of a cult sport to a global phenomenon that put the race-driven sport of mountain biking on the map in the world of action sports and the mainstream.
Join us for Saturdays on the Lawn with amazing pop up vendors. Shop jewelry, prints, wreaths, and more!
General Admission: $22 + tax, Day of Show: $25 + tax
Known for her soaring vocal performances, Caitlin Krisko and The Broadcast is a powerhouse soul rock band hailing from Asheville, North Carolina. Established in 2021, Krisko's electrified and unforgettable performances led to her working with members of Tedeschi Trucks Band and David Bowie's Blackstar Band on the band's newest studio album Lost My Sight. Krisko captivates her audiences, bringing the perfect blend of power and vulnerability throughout her shows.

 
ROCKFISH FOOD & WINE GRILL | THIRD THURSDAY: J. H. BARDS SPIRIT COMPANY | 6:30 - 9:30 PM

We've got a special Third Thursday planned for November 16th with J.H. Bards Spirit Co. and our first bourbon tasting! 
1318 Grandin Rd. SW, Roanoke, VA 24015
Our Black Box performances are something truly unique! An intimate experience for the community, these shows take place at our studio in the heart of Grandin Village. Each program is a sampling of different genres of dance, and feature the professional company members, apprentices, and trainees of RBT. You will love the diversity, innovation, and up-close experience that the Black Box delivers.
We hope to see you at one soon! Tickets are always very limited, and usually sell out, so don't delay if there is a date you would like to attend!
This feature-length documentary film captures the experiences and challenges of Black women, their families, caretakers and advocates, and examines the structures and systems that determine disparate rates of mortality.
General Admission: $13 + tax Advanced, $16 + tax - Day of Show (plus fees)
Featuring the musical talents of Henry Lazenby on guitar, Wyatt Allen on bass, Mason Jennelle on drums, and Charissa Joy, on lead vocals! Charissa Joy & the High Frequency keeps the vibes high with a variety of upbeat, feel good, powerhouse, groovy tunes that'll be sure to lift your spirits and get you out on the dance floor!
---
DECEMBER SPECIAL EVENTS 2023
This year's WinterFest Street Festival will be held on Saturday, December 2, from 3-7 pm. The WinterFest Boogie Woogie Christmas Band will perform from 4 to 6, featuring new and returning local vocalists:

To date we have 39 amazing crafters and vendors - check them out here. Only a few more spots available, so go here to sign up if you would like to be a part of this fun party!
Along with the band, check out the rest of the fun:
Street filled with vendors and street blocked off for the event.
Beer & Wine available in event area
Chestnut Roasters will be roasting live!
Many retail stores will be open for unique gift shopping
Santa will be here for the kids from 3-6
Kids activities and ornament making will be available
Wreath making with the Clean Valley Council (pre-sign up here)
Fun holiday props for photo opportunities
Appalachian Piping Academy Band piping traditional Christmas carols
Grandin Village Christmas tree lighting
We are looking forward to having you join the party at WinterFest 2023!
Our Grandin Village merchants, businesses and restaurants, are open! You will find their services and social links in our directory. 

It takes a village - shop local!

The market is located in the parking lot behind the Co+op.
Hours are: April through mid-November, 8 a.m. to noon. 
Recipients of SNAP, Pandemic-EBT, WIC, and Medicaid
 receive an
additional dollar to spend on fresh fruits and vegetables 
for every dollar they spend at market
.
 Stop by the Market Manager's tent before shopping to receive tokens that are used as cash to pay each vendor.
The Grandin Village Farmers Market (GVFM) supports local, sustainable agriculture by connecting the public with local farmers and food producers.
The GVFM features 100% locally produced products with an emphasis on organic, sustainable, and humane producers, products, and practices. All products are produced within 100 miles of the market location, with the exception of regional seafood from Virginia and North Carolina waters (only if the vendor is local) and coffee (only if the roaster is local).
The market is comprised of two dozen farmers and food producers featuring certified and non-certified organic veggies, fruit, herbs, seasonal seedlings, cheese, pasture raised/grass-fed chicken, beef, pork, and lamb, regional seafood, locally roasted coffee, artisan homemade breads, muffins, baked goods, hot-prepared foods, and fresh-cut flowers. (See map) 
Do you have an upcoming event that you would like us to share on the Grandin Village calendar? Give us your info, and we will let you know if it can be included!