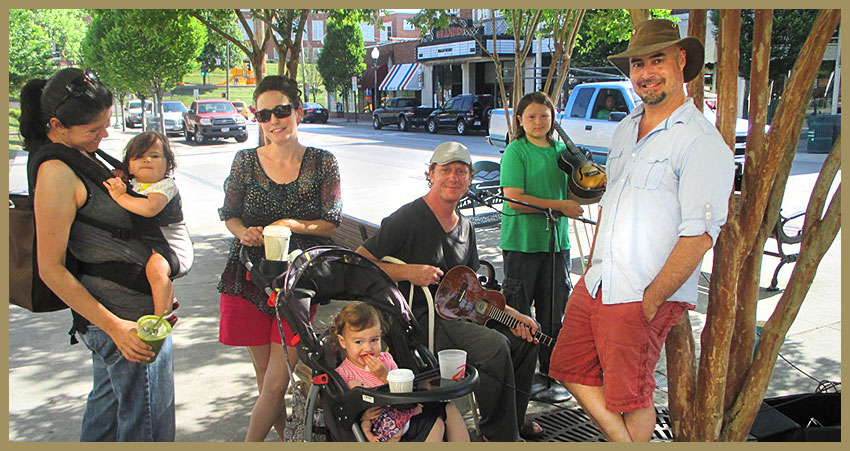 All local merchants and business owners may join the GVBA
The Grandin Village Business Association (GVBA) is a 501(c)3 nonprofit organization developed to promote and advance the Grandin Village Business District. When you join the GVBA, your membership dues contribute to many initiatives which brand Grandin Village as a thriving business center where people like to shop, eat and play.
Do you have a side hustle, cottage craft or work a business out of your home in and around the Grandin Village? The GVBA is inclusive, and we'd love for you to bring forward looking ideas to promote Grandin Village to our organization! 
We're so glad you're considering membership. A strong membership is vital to our sustainability and services that we provide, and enables us to better reach our goals. This includes ensuring that we focus on you, our local business owners, who make the historic Grandin Village business district, and surrounding Raleigh Court neighborhood, such a vibrant place to work and live.
How you contribute to the GVBA
Your support of the GVBA is crucial in so many ways! It help's finance beautification projects such as our show stopping hanging flower baskets and seasonal banners within the business district, as well as supporting events and seasonal planning, support of social media platforms, our website and promotion. GVBA is run entirely by a volunteer board and we welcome community input. 
What membership offers you
MAP & DIRECTORY - Listing of business and phone numbers in the directory of our website, and in any other media.
NEWSLETTER - Inclusing in Grandin Village e-newsletter

 

MARKETING OPPORTUNITIES - to be promoted on the Grandin Village social media platforms.

MONTHLY NETWORKING MEETINGS

 - be part of the decision making process. Plan events, meet other business owners and stay in the know!

 

ANNUAL MEET & GREET - a social event to meet community business leaders and share news about your business.

FREE ADMISSION TO GRANDIN CHILLAGE

- Members in good standing (dues are up to date) get in free to all the Grandin Chillage events for that year!
Not only do you reap the benefits enumerated above, but your dues help contribute to the following projects throughout the village:
Hanging flower baskets in Grandin Village

The monies that the GVBA receives from dues and from its Grandin Chillage events allow us to purchase and maintain about 15 large hanging baskets of flowers which hang from our classic lampposts in the Village.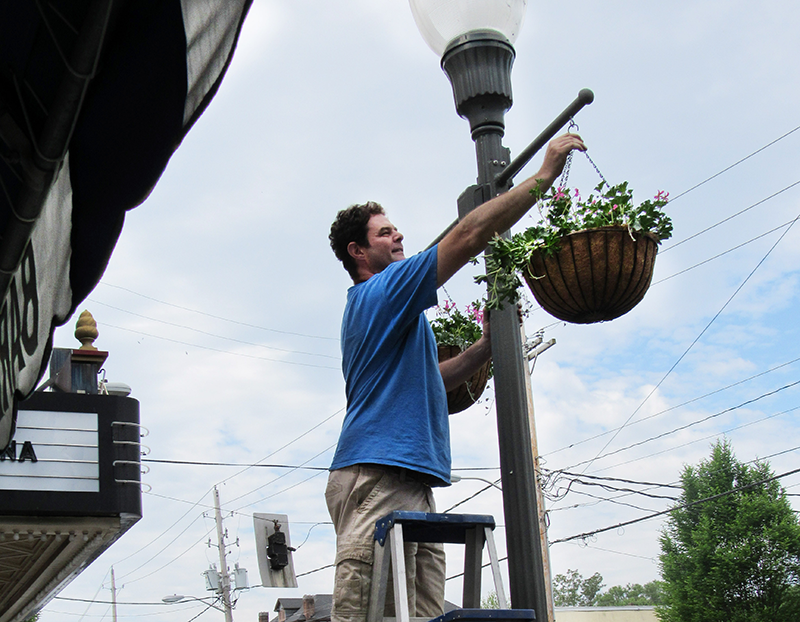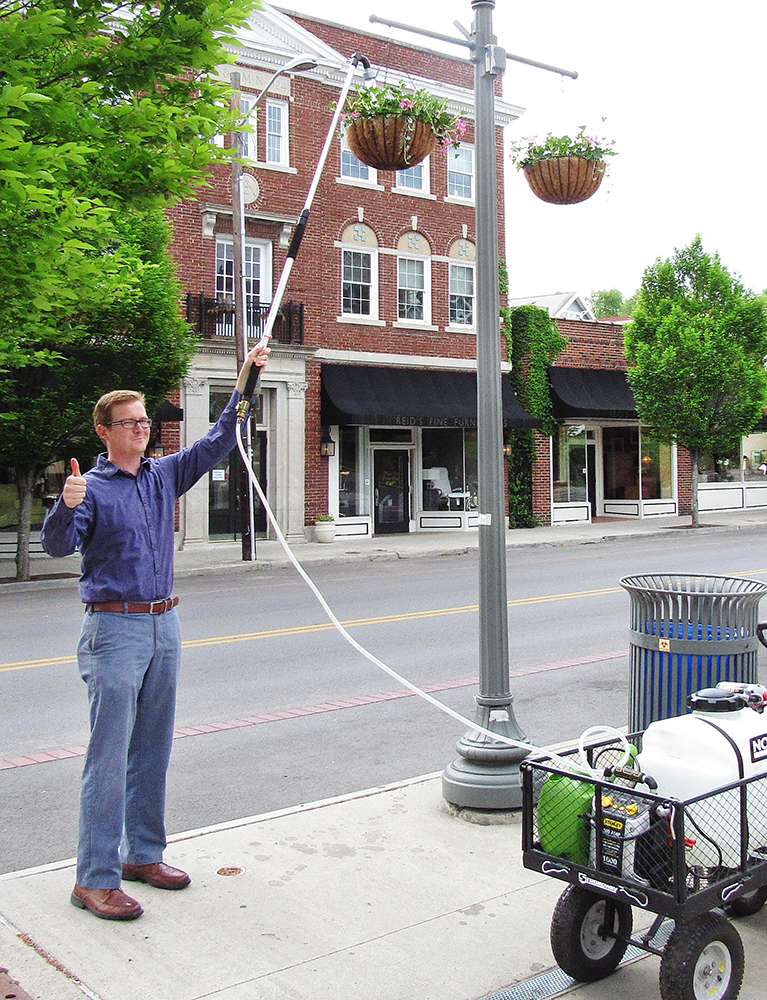 Multi-Mural Art Walk Installed In Grandin Village
On October 5, 2022, through a collaborative partnership between the GVBA, the Roanoke Arts Commission, and the Roanoke Natural Foods Co+op, a new series of murals,  dubbed "The Art Walk", were installed on the south facing wall of the Roanoke Natural Foods Co+op in historic Grandin Village, in the alley between the Co+op and Pinnacle Bank.
The overall project's name is "Walls That Unite", and the nine themes include diversity, courage, family, gratitude, hope, inspiration, love, respect, and strength. The nine artists hail from as near as the city of Roanoke to Meadows of Dan, Virginia.
"This project is a great example of how private neighborhood organizations and businesses can work together with the Roanoke Arts Commission to utilize public spaces to feature local artists and make our community more attractive through original art," said then GVBA President, Ian Fortier. "We believe the Art Walk is one of the largest multi-mural installations in the region, and we are beyond pleased to feature these artists and their works in the finest mixed-use, pedestrian, boutique commercial district we have in southwest Virginia."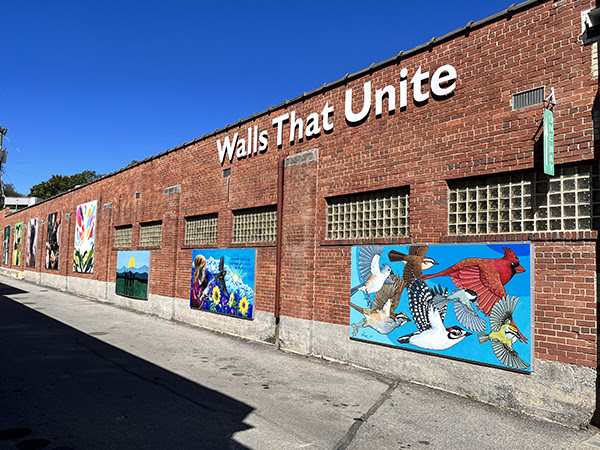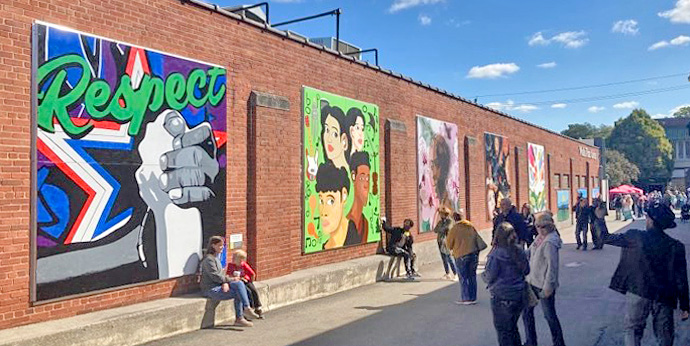 Seasonal banners along Grandin Road and Memorial Avenue
These cheerful banners add a warm welcome to residents and visitors alike. As Roanoke's original 'Village Center' we believe that making art and culture visible and accessible will attract creative people to locate and participate in our neighborhood.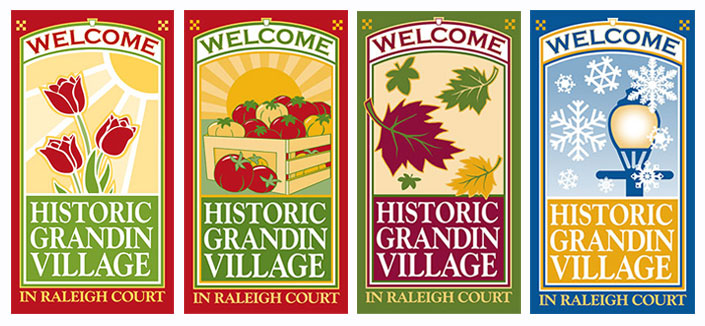 Proceeds from your dues help fund many annual events which brings exposure to the Village merchants, such as the longstanding and beloved Holiday Children's Parade; our unique WinterFest Street Party featuring a Holiday Boogie Woogie Christmas band, local crafters, seasonal adult libations, and open local stores with high quality goods just in time for holiday giving; and Grandin Chillage, our primary fundraiser which features brew, food and music.