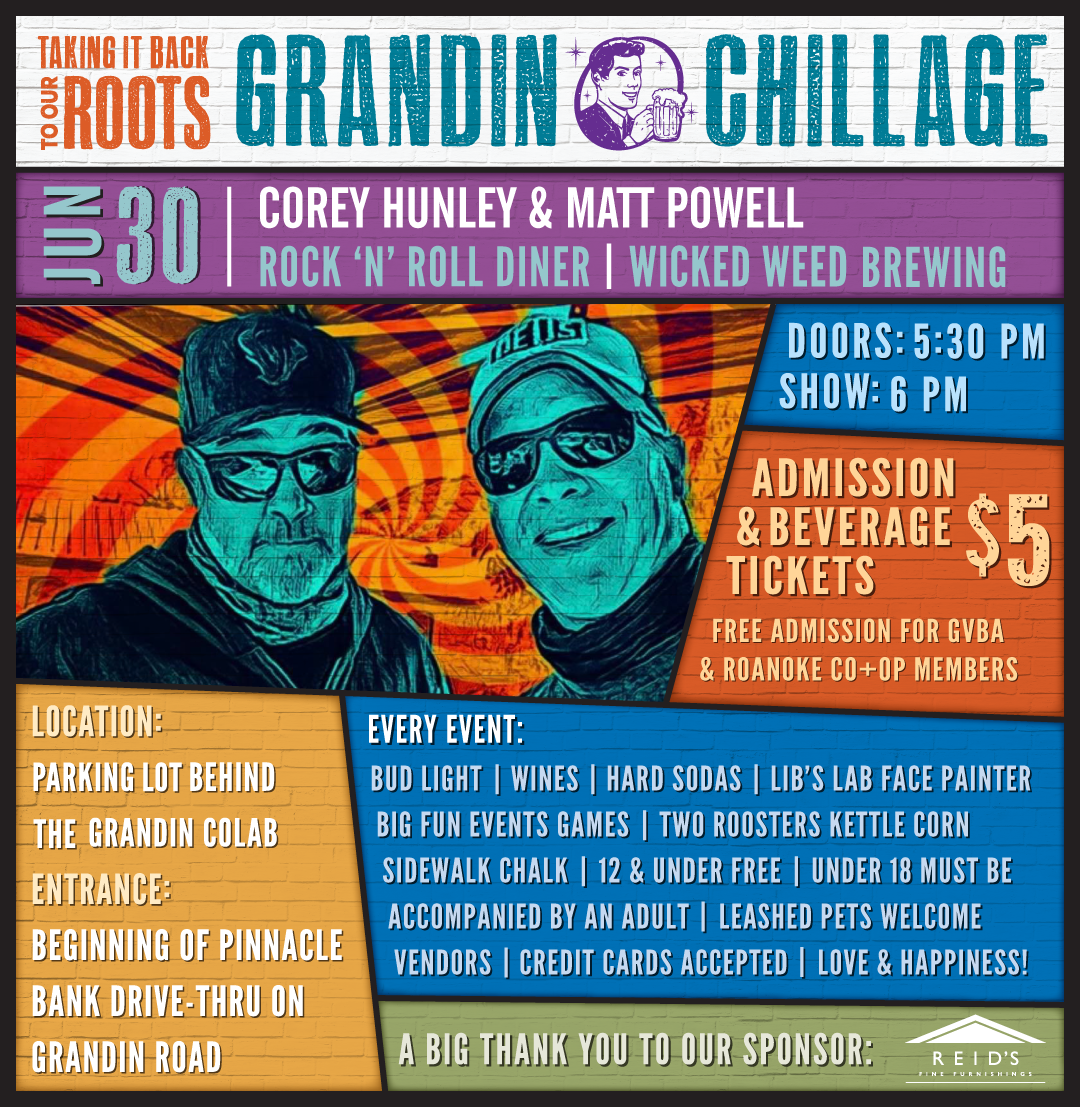 GET YOUR PARTY ON AT GRANDIN CHILLAGE!
Let's get this party started right! Taking it back to our roots for the 2023 concert series - behind the CoLab on the upper and lower parking decks, as well as the bank drive thru. It's a wonderful spot to Chill...
MUSIC: Bringing back Corey Hunley and Matt Powell to sling some tunes!
FOOD: Kefi, Greek food with passion & Queen's Vegan Café
BREW: Old Salem Brewing. We also offer hard sodas & wine, and a non-alcoholic beer.
SNACKS: Two Rooster's Kettle Corn
KID'S ACTIVITIES: Lib's Lab Entertainment will be putting color on all those beautiful faces and Judd's Big Fun Events is bringing the games on the upper deck.
Continuing (in an effort to cut down on waste) we will be offering $2.00 off the price of admission for bringing your own Grandin Chillage steel pint cup. We will be offering Grandin Chillage steel pint cups for only $8.00 at the gate.
We will be honoring Roanoke Co+op owners and GVBA members with free admission to all Chillage events. Must show owner/member cards at the gate, one admission per card. We will have a list of GVBA members who are current with their dues.
ENTRANCE LOCATION:
 Pinnacle Bank drive thru
Admission - $5.00. 12 and under free, under 18 must be accompanied by an adult. Leashed friendly pets welcome.
Drink tickets - $5.00. (Credit cards accepted)
Gate - 5:30 pm; Show - 6-9 pm.

We are proudly sponsored by Reid's Fine Furnishings and P.A. Short Distributing Co. A big Shout out to the the Roanoke City Sheriff's Department for their continued support. Thank you!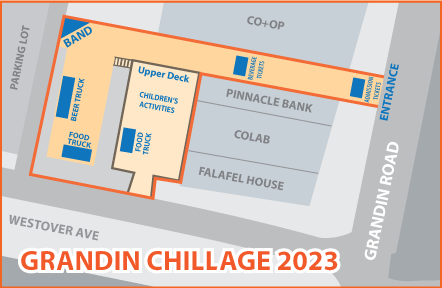 ALL ABOUT GRANDIN CHILLAGE

The Grandin Chillage is a family-friendly event designed to bring the community together through good music, cold drinks, great company and positive vibes!  A craft brewery is featured, with imported wines and Bud Light also served. Local Food trucks and Two Roosters Kettle Corn provide some good eating and snacks! Local bands offer a variety of music from rock to blues to reggae.
Regular season hours are from 5:30 - 9 pm on selected Friday nights starting in Spring, with a grand finale of a ChillageFest at the end of the season, featuring a variety of bands throughout the evening, along with a selection of local breweries.
Children 12 and under are free, and all children 18 and under must be accompanied by an adult. Leashed dogs are welcome. Before or after Chillage, spend some time visiting our eclectic shops and great restaurants!
We hope to see you at the next Chillage!