BAREFOOT WEST is a quintet of musicians featuring Kyle Scott Forry (Guitar/Vocals), Justin Arnett (Lead Guitar/Vocals), & Jeff Maiden (Hand Percussion), Sonny Campbell (Bass/Vocals), and Wes Chappell (Mandolin, Fiddle, Harmonica, Lap Steel Guitar, vocals, and many more. They play a solid mix of acoustic roots, rock, reggae, soul, & Americana in their originals, and cover songs ranging from Bob Marley and Sam Cook to Johnny Cash. Barefoot West is full of smooth grooves, tight playing, great songwriting, and effortless harmonies.
6-time winner of Best Local Band at Smith Mountain Lake, VA by the readers of Smith Mountain Laker Magazine they are sure to rock Grandin Village!
SUNKEN CITY BREWING COMPANY opened near Smith Mountain Lake in 2010. On tap are the signature Dam Lager and Red Clay IPA. In addition, brewmaster Jeremy Kirby is releasing small-batch beers each weekend as a way to gauge the particular tastes of lake-area patrons.
HOT STONES PIZZA has stellar reviews!! The crust is thin, yet pliable; the sauce complements but doesn't overwhelm the delicate balance of flavors; fresh mozzarella makes an enormous difference. The pizza completes nature's perfect pairing of pizza and craft beer. Best part is, the staff are every bit as wonderful as the pizza! Featuring a unique selection and always the best ingredients.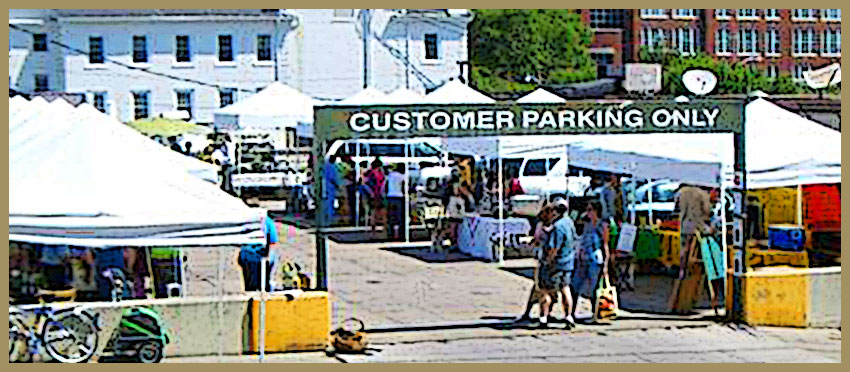 EVERY SATURDAY!

APRIL - OCT

 | 
8 - NOON
On Westover behind Nopales
ssss

sss

sss

sss

sss

sss

sss

sss

sss

sss

sss

sss

sss

sss

sss

sss

sss

sss

sss

sss

sss

sss

sss

sss

sss
Mark your calendars! Many of your favorite vendors (and a few exciting new ones) are back for the 2016 season. We'll have market activities for kids on Opening Day and once every month after that.
The Grandin Village Community Market (GVCM) supports local, sustainable agriculture by connecting the public with local farmers and food producers. The Grandin Village Market accepts and doubles SNAP-EBT benefits up to $30.
The GVCM features 100% locally produced products with an emphasis on organic, sustainable, and humane producers, products, and practices. All products are produced within 100 miles of the market location, with the exception of regional seafood from Virginia and North Carolina waters (only if the vendor is local) and coffee (only if the roaster is local).
Currently the Grandin Village Community Market is comprised of 18 farmers and food producers (layout is below!) featuring certified and non-certified organic veggies, fruit, herbs, seasonal seedlings, cheese, pasture raised/grass-fed chicken, beef, pork, and lamb, regional seafood,  locally roasted coffee, artisan homemade breads, muffins, baked goods, hot-prepared foods, and fresh-cut flowers.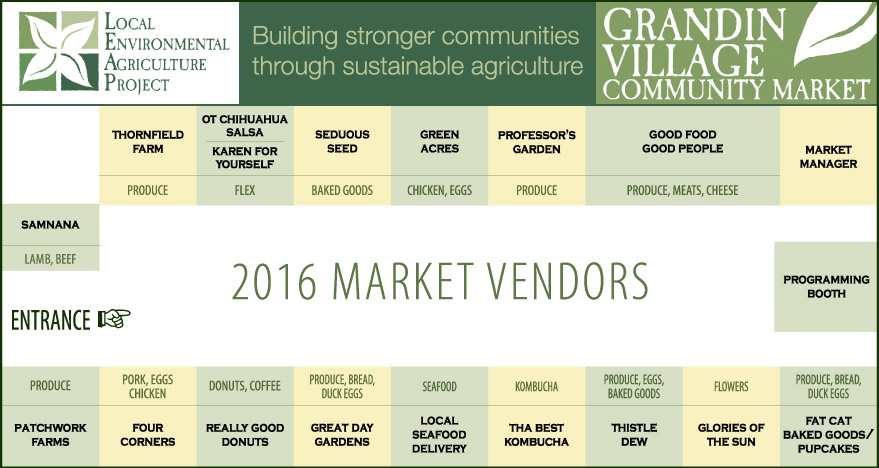 GET YOUR PARTY ON AT GRANDIN CHILLAGE

The Grandin Chillage is a full service event designed to bring the community together through good music, cold drinks, great company and positive vibes! This past season we have made it a family-friendly event as well.

This outdoor event takes place in the area behind Nopale's on the corner of Westover and Grandin Road. This is a multi-level area with space for mingling on the top level, and dancing to the band on the bottom level. A local craft brewery is featured, with Sangria, imported wines and Two Roosters Kettle Corn also on tap. Newly added in 2016 - food from a local restaurant or Food Truck! Local bands offer a variety of music from rock to blues to reggae.

Regular season hours are from 6 - 9 pm on selected Friday nights, with a grand finale of a ChillageFest in October which lasts from 1 - 9 pm and features a variety of bands throughout the day and evening, along with a selection of local breweries.

Children 12 and under are free, and all children 18 and under must be accompanied by an adult. Leashed dogs are welcome. We hope to see you at the next Chillage!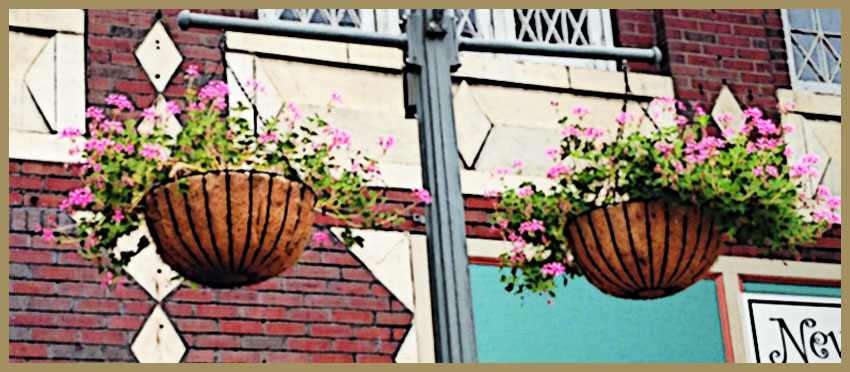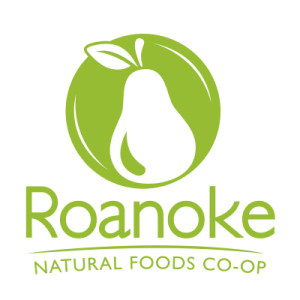 VILLAGERS BAND TOGETHER TO KEEP OUR HANGING FLOWER BASKETS WATERED AND FERTILIZED!
Kudos and a BIG thanks go out to John Bryant, from the Roanoke Natural Foods Co-op, and Sam Lunsford, from The Grandin Theatre, for working together to come up with a maintenance solution for the hanging flower baskets in Grandin Village!
The Co-op has purchased equipment to water the flowers, which they will also use to water their own great vegetable and plant offerings. And Sam Lunsford has stepped up to perform the watering and fertilizing of our flowers.
It truly takes a Village, and we are so lucky to have folks like this who step up in times of need!
We are looking for other volunteers to help when Sam can't make it. It takes about an hour to do the fertilizing (which needs to be done every 2 weeks) and about 30 minutes to water all of the baskets (maybe 3-5 times per week, depending on rainfall).

With a few more volunteers, we can setup a schedule for the whole summer that will make it easy on everyone. So send a message via the links below and let us know if you could help by getting on the schedule!
Do you have an upcoming event that you would like us to share on the Grandin Village calendar? Give us your info, and we will let you know if it can be included!