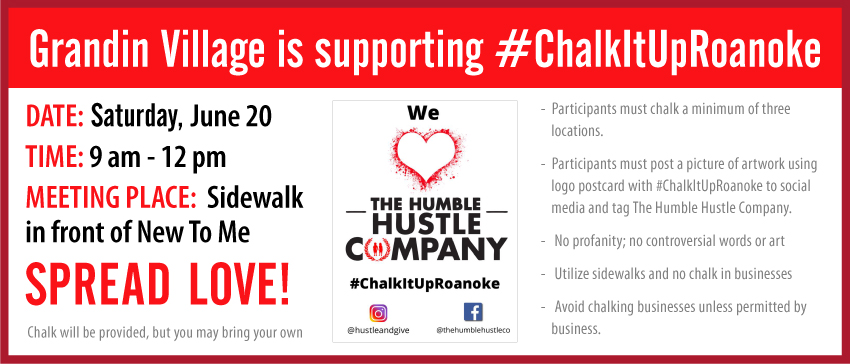 In recent weeks, as a community, we have all experienced the residue of social injustice in some way, shape, or form. With everything going on around us and the slew of emotions engulfing us, the Grandin Village is joining with the Humble Hustle Company to spread some positivity.
We invite all the businesses in the Village to join as we "Chalk Up the City with Love" in Grandin Village. Participants come to New To Me to get their chalk buckets provided by the GVBA, and chalk up the Village with ART, QUOTES, HASHTAGS, SCRIPTURES, AFFIRMATIONS, etc. for all of Roanoke to see.
We hope that your business will participate and welcome the people spreading love in the village by providing chalk, water or snacks if you so choose!
Guidelines:
-No derogatory , Profanity, or Controversial words/art.
-Practice Public Safety by utilizing sidewalks at all times.
-Refrain from entering any homes or businesses with chalk. 
-Avoid Chalking Businesses unless permitted by business. 
-No statements pertaining to law enforcement or government issues.
Many of our Grandin Village merchants, businesses and restaurants, are beginning to open on a limited basis during Phase 1 of the Governor's plan.

They need your support more than ever! You will find their services and social links in our directory. 

It takes a village - shop local!

The market is going to look A LOT different this year to ensure the safety of our customers, vendors, and staff. No shopping will occur on-site; the market will function only as a drive-thru pickup site for online pre-orders.
INSTRUCTIONS FOR SATURDAY PICK-UP
1. Shop online at LEAP's Online Marketplace from Sunday to Wednesday
https://leapforlocalfood.luluslocalfood.com/

Also shop at www.restorationacresfarm.com to buy from Restoration Acres or https://my-site-104472-104380.square.site/ for Thornfield Farm.
2. Arrive during your assigned time: last names starting with A-I, 9am-10am; J-R, 10am-11am; S-Z, 11am-12pm.
2. Enter Market from Grandin Rd via the alley between Pinnacle Bank and the Roanoke Co+op.
3. Pop your trunk! Gloved and masked market manager will post the last name for your orders on your windshield for vendors to see.
4. Cruise the market to receive items from each vendor you ordered from! Vendors will place order into open car trunk or car win
Winter Market is in the Roanoke CoLab on Grandin Road
The Grandin Village Community Market (GVCM) supports local, sustainable agriculture by connecting the public with local farmers and food producers. The Grandin Village Market accepts and doubles SNAP-EBT benefits up to $30.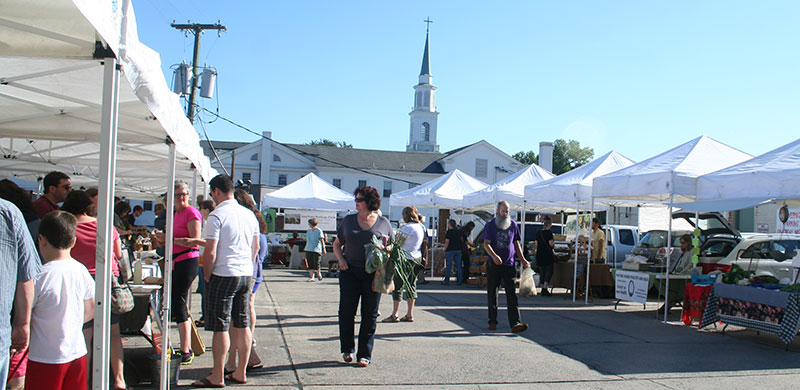 The GVCM features 100% locally produced products with an emphasis on organic, sustainable, and humane producers, products, and practices. All products are produced within 100 miles of the market location, with the exception of regional seafood from Virginia and North Carolina waters (only if the vendor is local) and coffee (only if the roaster is local).
Currently the Grandin Village Community Market is comprised of 18 farmers and food producers (layout is below!) featuring certified and non-certified organic veggies, fruit, herbs, seasonal seedlings, cheese, pasture raised/grass-fed chicken, beef, pork, and lamb, regional seafood,  locally roasted coffee, artisan homemade breads, muffins, baked goods, hot-prepared foods, and fresh-cut flowers.
GET YOUR PARTY ON AT GRANDIN CHILLAGE

The Grandin Chillage is a full service event designed to bring the community together through good music, cold drinks, great company and positive vibes! This past season we have made it a family-friendly event as well.

This outdoor event takes place at 1514 Grandin Road, the site of the former Texaco. A local craft brewery is featured, with Sangria, imported wines and Bud Light also served. Two Roosters Kettle Corn, Cool Blue Ice Cream and a local Food Truck provide some good fixin's! Local bands offer a variety of music from rock to blues to reggae.

Regular season hours are from 6 - 9 pm on selected Friday nights, with a grand finale of a ChillageFest in October which lasts from 2 - 9 pm and features a variety of bands throughout the day and evening, along with a selection of local breweries.

Children 12 and under are free, and all children 18 and under must be accompanied by an adult. Leashed dogs are welcome. We hope to see you at the next Chillage!
Do you have an upcoming event that you would like us to share on the Grandin Village calendar? Give us your info, and we will let you know if it can be included!