BUSINESS UPDATES DURING CoVID-19 CRISIS
We care greatly about our merchants, businesses and restaurants in Grandin Village. Many of them, and their employees, will suffer a huge drop in income from the COVID-19 restrictions. That being said, they are all doing the right thing by trying to keep everyone in the Village safe in the coming weeks.

We have created this page in order to consolidate updated info about our businesses - openings, closings, where you can still purchase items and food - all in one place. Listings are alphabetical, showing the information we have received, and updated daily (as it is submitted to us).
7-Eleven, Grandin  

1410 Grandin Rd |
540.982.0713
Staying open for now. Updates every hour. We do care!!! We have a delivery every night but the donuts will now be prepackaged and we will only have 5-6 items to offer.
We are having conference calls every couple hours with 7-eleven corporate to stay tuned on what they want us to do. As always let us know if you need anything.
Adorn Salon  

1612 Grandin Rd |
540.274.1983
If you'd like to prepay for a future appointment we are running a special for $10 off any purchase $50 or more!! We greatly appreciate all of our understanding clients during this hectic time we are all experiencing!! Link to purchase!!
Book future appointments online here.
We are committed to keeping everyone safe and healthy and appreciate your support! We are taking extra precautions at Adorn Salon to protect from the spread of COVID-19 by:

disinfecting all stations and frequently touched surfaces frequently throughout the day

instructing all stylists to stay home if they have any cold/flu symptoms or have been exposed to anyone with the virus or experiencing symptoms

stylists are washing their hands before and after each appointment
If you are: coughing, sneezing, feverish, or have any cold/flu signs or symptoms - please call as soon as possible to reschedule your appointment! During this crisis we will not charge cancellation fees for less than 48 hour notices due to the onset of symptoms of COVID-19. We understand that you may have had your appointment booked for some time now and we will do our best to get you rescheduled as soon as possible.
Thank you for your continued support and patience with us during this time.
Black Dog Salvage

902 13th St SW | 
540.343.6200 | Online Sales: 540.206.3197
Black Dog Salvage Main Showroom and Receiving Warehouse is closed to the public until social distancing rules are relaxed.

call the number above, or email

 

for personal shopping assistance and custom orders


*

 

Substantial

 

discounts available for local curbside pick-up and delivery
Community Inn  

1410 Grandin Rd |
540.342.2351
Now offering take-out, curbside delivery, and delivery within a 5 mile radius. Our dining area is closed.
Our hours for all of the above is:
Monday-Friday from 11-2 and 4-7
Saturday and Sunday from 12-2 and 4-7
We can also deliver beer and wine! Give us a call at the number above.
We thank you all for your continued support and hope that we can continue to serve you all during this time! We cannot wait to be back up and running as normal.
Evergreen Burial Park is operating as normal. Funerals are taking place as scheduled albeit mindful of social distancing at graveside interment services.
Though hugging, kissing, and touching are important, necessary, and expected parts of grieving and support for those who have lost loved ones, we will do our part to remind our families and visitors to be mindful of the potential and perceived risks.
Through the end of March the cemetery gates will close at 5:00 PM daily. Beginning April 1, 2020 the gates will remain open until 7:00 PM for those wishing or needing to get out of the house and take a walk in our burial park. Many neighbors are taking advantage of our beautiful grounds and budding trees as a peaceful place to exercise with no social distancing worries! Plenty of room for social distancing on your walk.
Spend some time searching our burial records at www.evergreenmemorialtrust.com
Our COVID 19 policy statement can be found on our website.
FarmBurguesa  

1410 Grandin Rd |
540.566.3377
Open every day from 11 am to 9 pm for take-out, curbside pickup and FREE delivery
BEER DELIVERY AVAILABLE NOW
Grab a burger and a beer of your choice. Pickup, Curbside or delivery available. Order HERE for Grandin area.
5 lb packages of GROUND BEEF are available at the Grandin location. Message questions via the Facebook app above.
A portion of our delivery sales, plus any generous tips they receive, will go to our dedicated team of employees. It is our goal to keep our staff FULLY employed during this time.
We continue to be impressed and grateful to our customers and community partners. The only way through this is together.
In solidarity,
The FarmBurguesa team
Our dining room is closed until further notice, but you can still get all of your Grace's Place favs to go! 
Order Online here.
Call for take-out at the number above
Check out our menu here.
Take-out only
Order curbside pickup through Cloosiv or delivery through DoorDash.
Or come in and place your order to go!
New hours:
7 am - 3 pm

We are currently offering a take-out only menu with retail beer and wine from 11:30 am until 8:30 pm. Menu updated live at here. 
Gift cards available online here.
New To Me Consignment Boutique  
  
1322 Grandin Rd |
540.982.2022
New To Me will be going to appointments only & shopping through the Facebook and Instagram links above.
Make an appointment: Call 540.314.4687 or use Facebook messenger.

To shop, please look at our Facebook and Instagram page, choose what you like, and either call or use Facebook messenger to order your item(s). No new items will be accepted during this time.
Pop's Ice Cream & Soda Bar  

1916 Memorial Ave SW |
540.345.2129
We are closed, but look forward to reopening and rebuilding our scooping arms, when it's deemed safe to gather together again.

In the meantime, perhaps we can persuade Brandon to roam the neighborhood piping, to liven things up.
Raleigh Court Health & Rehabilitation Center  

1527 Grandin Rd |
540.342.9525
Pursuant to regulatory advice and in order to continue to ensure the well-being of our residents and staff, we have made the decision to restrict all visitation temporarily at this time. This decision comes amid statewide concerns over respiratory illnesses, including COVID-19.
Like you, our top priority is the care of your loved one and we want you to feel confident that our patients are continuing to receive the highest level of care. We trust that you will understand this measure is being put in place for their protection. There are interim electronic options for virtual visitation and we will be glad to work to put you in contact with your loved one by one of these methods.
There will be circumstances when an in-person visit is necessary and in these instances we will facilitate a complete screening to appropriately ensure continued safety. Please contact the Center should you need emergency consideration. 
We are continuing to follow CDC and CMS infection control protocols in the Center and are continuously reviewing our internal systems and policies with all staff.
We sincerely appreciate your patience and understanding during this time as we take this and all necessary precautions to ensure the health and well-being of everyone at our Center. 
Reid's Fine Furnishings  

Authorized Stickley & Ekornes Stressless Dealer
1320 Grandin Rd  |  
540.342.1844
Our hours are unchanged:
Mon-Fri | 10 am - 5:30 pm
Sat | 10-5
We are happy to serve customers in our store, by phone, or by emails. We've disinfected doors knobs and woodwork, and we are definitely open for business!
Closed for regular classes.
Updates on upcoming performances are as follows:
Arabesque for Awareness Performance | Cancelled until further notice
Black Box #4 | Cancelled
Showcase | Still scheduled for April 19, 2020
Sleeping Beauty | Still Scheduled for June 6, 2020
Purchase brand new RBT merchandise and donate to the ballet at the same time!
 King Screen has been created an online store to give local small businesses the much needed support they need right now. When you order a shirt from this online store, you're not only supporting RBT but a local print shop as well. We are #RoanokeStrong.
NOW THROUGH APRIL 2, 2020 $10 OF EVERY SHIRT SOLD GOES DIRECTLY TO ROANOKE BALLET THEATRE!!!
You can purchase your shirt here!  Make sure you do not miss out an the amazing opportunity to support RBT and get our brand new designed t-shirt.
Friday, Saturday and Sunday ~ 4 to 7pm. 
Order food and wine from our special curbside menu! 
Wine pairings and Retail wine available!
UPDATE REGARDING COVID -19
CoLabers, by now you've already been affected in some form or fashion by this virus. No doubt you've received emails from everyone and business as well. As such we'll be brief and succinct.
1. The CoLab is still open and will remain open until the the Government requires us to shut down or we have additional information.
2. All doors will be locked and will only be unlocked via Proximity app. Non members will not be allowed inside; EFFECTIVE IMMEDIATELY.
3. ALL GUEST MUST BE LET IN BY THEIR HOST (COLAB MEMBER). DO NOT LET ANYONE IN THAT IS NOT HERE TO SEE YOU.
4. The cleaning crew will be doubling their efforts to keep everything clean, sanitized and stocked. Likewise, I (Gabriel) will be cleaning and sanitizing all touch points (door knobs, handles, sinks, desks) on days they do not come in.
5. Reservations of groups larger than 30 people have already begun to be cancelled and no new reservations for conference rooms will be made for the time being.
Lastly, we are evermore committed to providing you all with a safe, clean, and calm working environment, even this time. If there is anything you need or think we should be doing differently please share your thoughts.
Take-out and delivery only
7am - 12pm, 7 days a week.


We're here crankin' out breakfast for y'all!
Dining room is closed. All orders will be taken from outside under the smoke house!
Curbside to-go & delivery within 5 miles. Give us a call!

Taaza  

1910 Memorial Ave |
540.342.4773
15% OFF ON EVERY ORDER!!!!!
Take-out with curbside pickup: 4 - 9 pm, Tuesday - Sunday

Food cooked in proper hygienic conditions and served with proper care.

Delivery: Chownow, Grubhub and UberEats

 
The Grandin Theatre is now closed through June 10 due to the Governors decree.
To all of you, thank you for your ongoing support of this remarkable facility, Roanoke's oldest arts and cultural organization.
Online Donations 
Online Gift Pass 
The Grey Goose  

1502 Grandin Rd |
540.512.9725
Closed. For a particular item, call Shellie Ramsey at 423.227.5504
New Hours
7 am - 8 pm starting Monday 3/23
We'll get through this TOGETHER
We're taking our community's health seriously. Please maintain a distance of 6 feet from staff and fellow shoppers at the co-op, as recommended by the CDC. And if you feel ill, please stay home and ask a friend or relative to shop for you.
Reusable Bags and Bagging Your Groceries:
Due to the current health concern, customers wishing to use reusable bags need to bag their own groceries. We will be happy to bag your groceries in a fresh paper bag/s.


Out of Stocks:


Because of nationwide shortages during the COVID-19 crisis, grocery store inventory levels are lower than usual. We continue to work with our suppliers to get the products that are available, and we expect regular deliveries to resume soon. 

Our local vendors have been very good about getting product to our stores! Thank you!


Grab N' Go
We are temporarily suspending Hot Bar and Salad Bar Service in our Deli. We've move to prepacked meals which can be found in the Grab N' Go case next to our Soup Bar. Soups are also prepacked in the Grab N' Go case. Hot bar items are packed in microwavable containers for your convenience.



We are also temporarily suspending our Fresh Made To Order items including Signature Sandwiches, Juices & Smoothies.
Too Many Books


Used, Rare, Out of Print 

 
 

1504 Grandin Rd |
540.989.6469
Closed for browsing and trading until April 1st. We will post hours on Instagram when we will be in the store for phone orders and curbside service.
Urban Gypsy  

1320 Grandin Rd |
540.400.8552
Open for appointments only in a sanitized environment. Call us at the above number.
Look for videos and images of products to come on Facebook!  As a special bonus, Urban Gypsy will be including personal notes and custom seed packets with each online, phone or social media purchase. Ways to Purchase/Get Items:
Shop Online 
Direct Message us thru Instagram

Direct Message us thru the Facebook link above

We can email invoices

Free Shipping on any order over $50

Free In-store Pickup or Curbside Pickup

Free Local Delivery within 10 mile radius

Gift Cards available for purchase

Gift Cards able to be redeemed over the phone
The Village Grill  

1802 Memorial Ave SW |
540.767.0057
The Village Grill and Scratch Biscuit Company is closed at this time.
I want to reiterate we are not closing permanently. Our goal is to resume operations once the 30-day statewide shut down has expired (barring any new developments from appropriate sources as how to proceed). 

Sleeping Beauty is a timeless fairy-tale ballet of a beautiful princess, an evil sorceress and a 100 year curse only broken by the kiss of a handsome prince. Staging by Roanoke Ballet Theatre's artistic director, Sandra Meythaler, will be accompanied by Tchaikovsky's enchanting score, stunning costumes, and beautiful dancing of Roanoke Ballet Theatre's professional company and school. With two performances at the Jefferson Center on June 6th, 2020 this ballet is a feast for the eyes and ears and is sure to delight individuals and families of all ages.
Follow this link for tickets-
http://jeffcenter.org/RBTSleeping-Beauty2019
Shaftman Performance Hall
Saturday, June 6, 2020  |  2:00 pm and 7:00pm
Grandin Village Indoor Farmer's Market
Stay tuned for info about the summer market opening
Winter Market is in the Roanoke CoLab on Grandin Road
The Grandin Village Community Market (GVCM) supports local, sustainable agriculture by connecting the public with local farmers and food producers. The Grandin Village Market accepts and doubles SNAP-EBT benefits up to $30.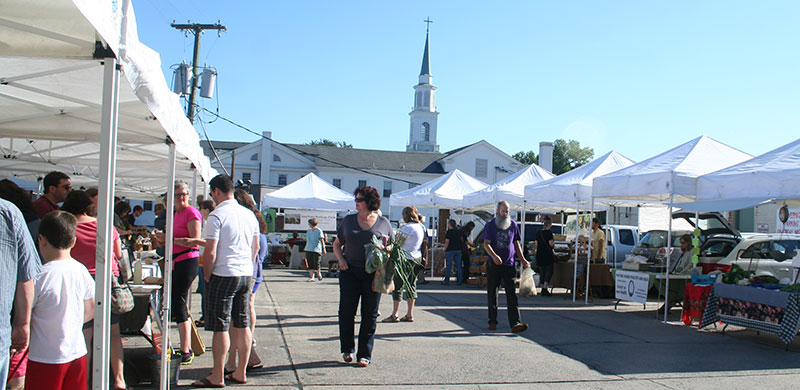 The GVCM features 100% locally produced products with an emphasis on organic, sustainable, and humane producers, products, and practices. All products are produced within 100 miles of the market location, with the exception of regional seafood from Virginia and North Carolina waters (only if the vendor is local) and coffee (only if the roaster is local).
Currently the Grandin Village Community Market is comprised of 18 farmers and food producers (layout is below!) featuring certified and non-certified organic veggies, fruit, herbs, seasonal seedlings, cheese, pasture raised/grass-fed chicken, beef, pork, and lamb, regional seafood,  locally roasted coffee, artisan homemade breads, muffins, baked goods, hot-prepared foods, and fresh-cut flowers.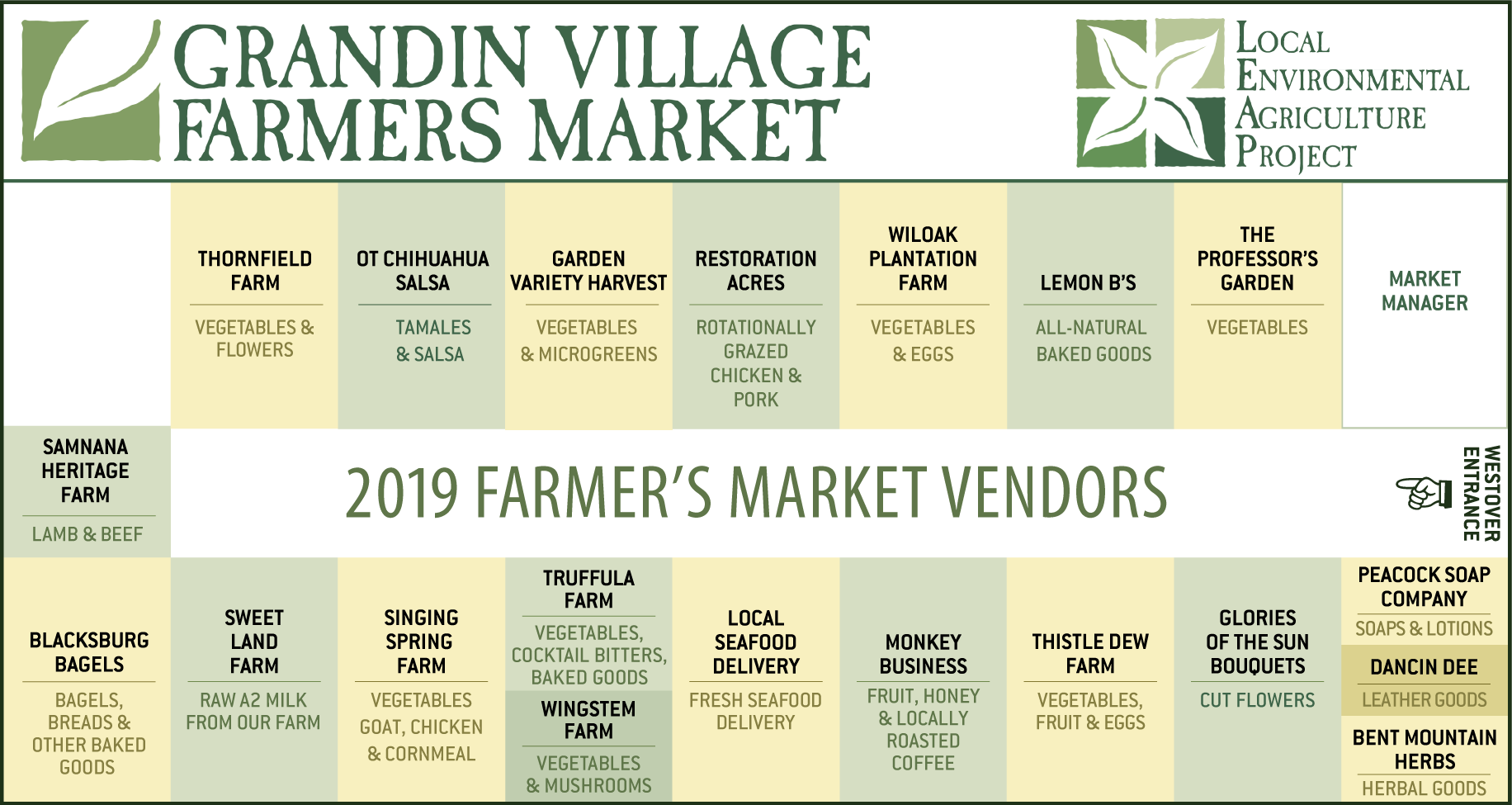 GET YOUR PARTY ON AT GRANDIN CHILLAGE

The Grandin Chillage is a full service event designed to bring the community together through good music, cold drinks, great company and positive vibes! This past season we have made it a family-friendly event as well.

This outdoor event takes place at 1514 Grandin Road, the site of the former Texaco. A local craft brewery is featured, with Sangria, imported wines and Bud Light also served. Two Roosters Kettle Corn, Cool Blue Ice Cream and a local Food Truck provide some good fixin's! Local bands offer a variety of music from rock to blues to reggae.

Regular season hours are from 6 - 9 pm on selected Friday nights, with a grand finale of a ChillageFest in October which lasts from 2 - 9 pm and features a variety of bands throughout the day and evening, along with a selection of local breweries.

Children 12 and under are free, and all children 18 and under must be accompanied by an adult. Leashed dogs are welcome. We hope to see you at the next Chillage!
Do you have an upcoming event that you would like us to share on the Grandin Village calendar? Give us your info, and we will let you know if it can be included!